ba llb 1st semester notes pdf papers: Sociology -I(code:BL-102) , History(code:BL-105), Political theory-I(code:BL-103) has been written
according to the syllabus of C.C.S University for BALLB notes I Year, I Semester.
Easy and understandable language has been used.
Each chapter has an enormous detailed or long question which will prove very helpful in the examination. For more, you can comment on us.
"Best of Luck"
you can read also BA LLB economics notes pdf
for more please follow @freegooglenotes
SUBSCRIBE us on Our Youtube Channel @Real Info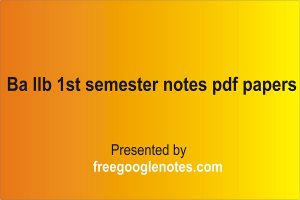 Sociology-I
History
Survey of Political History of Ancient Indian
Rise and growth of political ideas in ancient India with special reference to
State and government in ancient India
Justice and Law government in ancient India
A Brief Survey of the Political History of Medival India
Alauddin Khilji administration
Condition of women in Medieval India
Socio Economic problems in Medival India
Political Theory-I
The Doctrine of separation of powers
Concept of Representation, Public opinion and Political Participation
Parliamentary and presidential form of Government
Dictatorship and Military Rule
above we provides you ba llb 1st semester notes pdf. so you we have any query please comment us below
YOU MAY READ ALSO